We can't get enough of his edgy yet feminine designs.
Manifest has become a trendy word lately, sparking people to almost believe their dreams into existence. Fashion designer Venny Etienne is proof that if you combine that with hard work, it may actually work. The young Black creative set his sights on Beyoncé years ago, posting on Facebook in 2015, "(Speaking in existence) Beyoncé WILL wear one of my garments by 2020." Right on target, you can catch Beyoncé in her "Already" video donning a floral jacket that looks like a cross between armor and a sundress, designed by Etienne himself.
Born of Haitian descent, Etienne grew up in Brooklyn designing clothes for church fashion shows. He counts Alber Elbaz, formerly of Lanvin and Tom Ford, as inspiration, reminiscing on watching their fashion shows on Full Frontal. "I was amazed with the effect of what garments can do and how you can have a 'moment' with clothes," says Etienne. Post fashion school, he studied under haute couture experts in Paris and Milan-based designer and pattern maker Shingo Sato.
Fast-forward a few years, and after a stint on Project Runway that landed him in the final seven, Etienne has designed for clients including Cardi B, Niecy Nash, and most recently, Beyoncé. He debuted his latest Collection #003 at New York Fashion Week, sponsored by Essence magazine, earlier this year. His line LEVENITY emphasizes the contrasting nature of modern women who are simultaneously strong yet soft. The coat Beyoncé wore, which actually inspired his current collection, Etienne describes as "the summary of [his] aesthetic."
Can you tell us a little bit about your career trajectory?
"I was born and raised in Brooklyn, New York. My parents are from Haiti and they migrated here. I grew up in the church, and really that's where I started with fashion. The church that I went to, we would have fashion shows and I was a part of creating the shows. The pastor would give us funds, and we would purchase things from, let's say, H&M that were of a modest point of view because, you know, it's a church. We would be our own models, and once the fashion show was over, we would donate the clothes. The organizer or the one who created the show asked who amongst us wants to go ahead and do their own clothes. I knew that I kind of wanted to do something because I would look at all these fashion shows and all that stuff, so I volunteered. My mom and I went to the Salvation Army and bought a couple of sports jackets and blazers—we would deconstruct them, add some fabrics to the lapel or to the pocket. We would make these paper-bag-waist skirts, which was in at the time. The response from the audience kind of made me feel like I could actually make this into something that could be more long-term."
What would you describe as the aesthetic of your collection?
"Sophisticated and edgy are always the two words that pop up in my head, in terms of the type of clothes that I like to create. I love architectural lines. I love sophisticated structure. I love outerwear. I love wovens. I love sportswear and separates for a strong woman who has a nice, soft touch."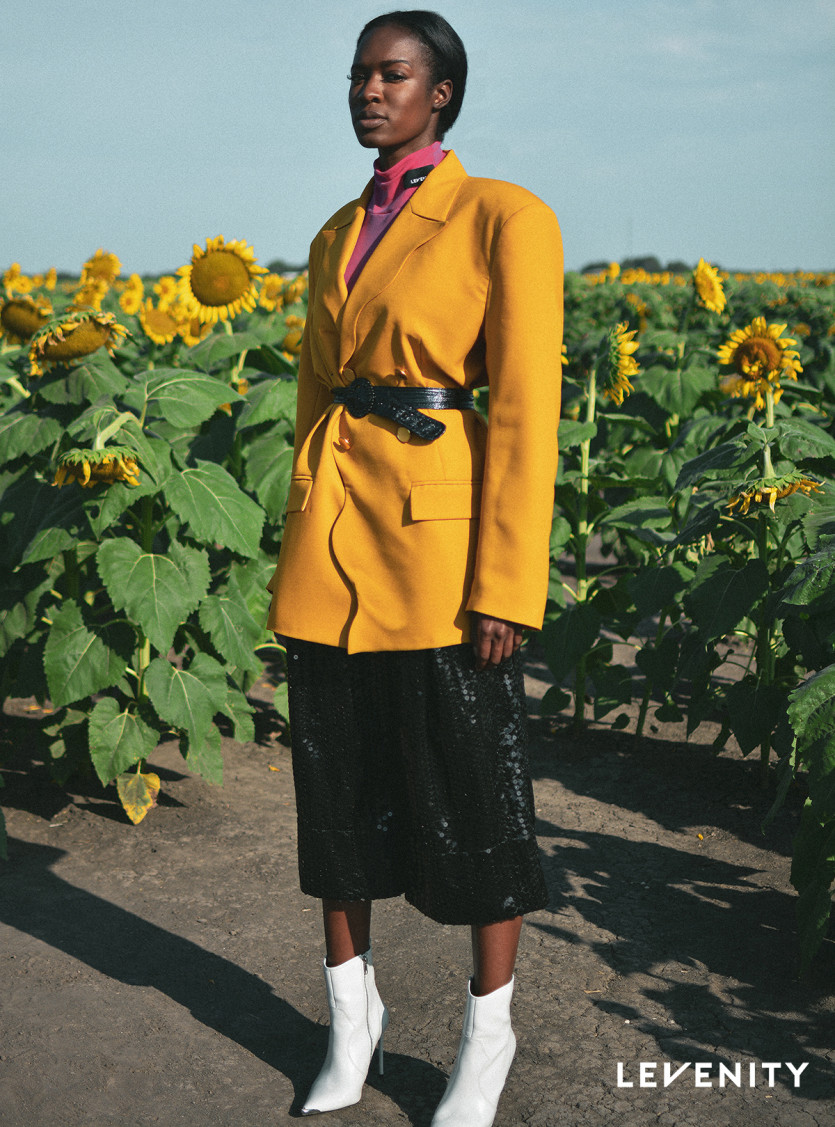 Where did the name LEVENITY come from?
"So, my name is Venny Etienne. LEVENITY is really just a mixture of my name intertwined. It has all the letters of my name except the L. The L makes it feminine. It's basically just saying who I am encoded in the brand."
So Beyoncé's stylist calls you and says she wants a coat. Where did you go from there?
"I submitted a couple of sketches to see where Zerina was in terms of what she wanted. She said she wanted something strong, something with an exaggeration, whether it's the hips, the shoulder, the arm. I'm an '80s baby—I love the '80s. A strong shoulder is always great. Then it was time for me to source what fabrics. Zerina said something floral, something in the lavender field. It was hard because I'm sourcing here in Dallas. New York or L.A. are much more accessible in terms of choices, but I only had like, a week. This is how fashion is—you only have like, a couple of hours. There's no excuses.
"When I was constructing it, I still was kind of shy in terms of how extended she wanted the shoulders, but then she was just saying, 'No, we need it bigger.' So I kept it bigger. That's when I reached out to a good friend of mine, Garo, who was also on Project Runway. He is much more knowledgeable in terms of garments that have this understructure that's outside of the normal figure. It took a total of 68 hours for me and my team to complete. Those hours in the beginning, I was up 48 of those hours—like, I didn't sleep. I used two five-hour energy drinks. I was listening to Beyoncé the whole entire time, and it was good."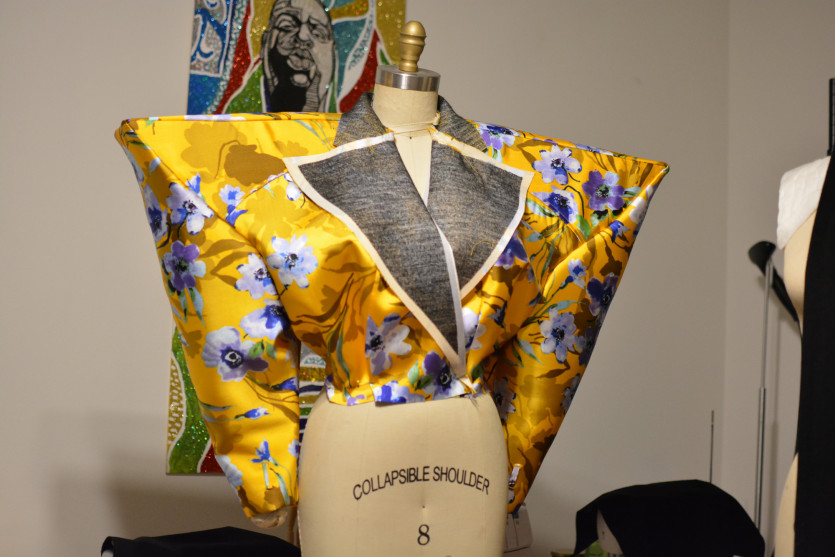 The contrast of the purple and yellow in the coat's design is so interesting:
"If I had to summarize my aesthetic, it's that coat to [a] T. In the beginning, when I first started as a designer, I didn't really understand the power of color. A lot of my collections, they're almost all black. I didn't want to delve into the color part of creating looks because I didn't want to mess it up. Now, for the past two years, I've been playing with color. I've been playing with texture. This particular coat is like the summary of my aesthetic because it's a strong shoulder, it's a very flirty, feminine flounce bottom, and it's a floral print, but whoever wears it still feels strong, still feels feminine."
What did it mean to see Beyoncé in one of your pieces?
"Oh my gosh—I had a couple of crying moments, of course. Any designer would. I'm a Christian, so I'm a very firm believer in faith and seeing things through. We had to submit garments [for consideration], just like when Jason Wu was waiting to see who Michelle wore for the inauguration ball. He didn't know if she was going to wear it, so he was just waiting. That was me, too. I'm pretty sure every designer experiences that. It was amazing to realize that they aired it—that's when the tears just started flowing. If you look at any articles that I've always been on, when someone asks who is the person that you want to dress, it was always Beyoncé. Always Beyoncé."
How did your time on Project Runway prepare you for your current experiences?
"Project Runway was definitely a learning process for me. It was also amazing. The reason I loved it so much was because it showed me discipline. It showed me how I could really push myself. When you think you have all the time in the world, you use all the time in the world. But when you don't have all the time in the world, you've got to get shit done. I really loved the relationships that I was able to get from the show. So me and Elaine, if ever I need advice or if I need to reach out to someone, she'll sometimes even help me and reach out to that person for me. Brandon Maxwell, we communicate. Also, all of the contestants, we have this group text where we always check in on each other. It's just great to have that support system, especially in this industry where it's kind of hard because everyone's busy trying to get there, you know, that we could have this little family."